With 85% of textiles ending up in landfill worldwide (UN world resources Institute), we desperately need to re-look at our relationship with our clothes. It's not only clogging up our wardrobes but our beautiful waterways and landscapes as well. It is toxic for our planet and I believe the throw away mentality is toxic for our souls. Just like with any toxic relationship, gurrrl, you deserve so much better! It's time to re-imagine a healthy relationship with our clothes, to create a sustainable wardrobe.
However it can be quite overwhelming to know where to start at first. I am by no means an expert but I thought I would share some of my thoughts and learnings on my journey with this so far. Here are my 7 secrets, tried and true, on a sustainable wardrobe.
The 1 in, 1 out rule
I live by this and it honestly works! Inspired by never having enough wardrobe space but always finding new treasures that I couldn't pass by. Easy fix, every time you see something you like, ask yourself "do I love it enough to part with something already in my wardrobe?" If yes, then out with the old, in with the new. If no, then, pass her by for another to love. I recommend parting with an item in the same category as the one you've got your eye on. For example, if you want a new dress, give up a dress that you already have.
It helps with controlling the impulse purchases too. If you haven't already found something in your wardrobe you'd like to replace then you may have to leave the possible new purchase for now, head to the wardrobe and suss it out. Then go back to the shop/website to purchase, giving you more time to think and control that urge!
This rule can actually apply to any product you find yourself slightly obsessed with. For me, it's books and fabric as well (eek, I can't even begin to think about applying this rule for my giant mountain of fabric though!)
Love what you wear (and buy)
This year I have invested in support from a stylist – Nina from Style Gorgeous. She helped me with finding what looks good for my body shape and colours that suit me. She has also helped me with stylist advice for my new clothes designs (new line coming soon!)
While this can be quite a big investment upfront, it is totally worth it. I am slowly changing my wardrobe to garments that I love AND that suit me. I'm starting to feel joy when looking in my wardrobe each morning rather than the overwhelm or confusion that used to hit me.
Other than investing in a professional, it may even be worth seeing if you can find out a bit more on your body shape and colours on google. Asking friends and family what looks good on you is another great way, or keeping a note of what you absolutely love and think you look great in.
The "Good on you" app
THE easiest and quickest solution I have found in my mission to having a sustainable wardrobe is the Good on you app. You can pop any brand in the search bar, and it will come up with an overall rating on sustainability. Followed by a more detailed break-down on impacts on labour, environment and animal. They also have a website with lots of cool blogs on sustainable fashion and different ethical brands, check it out here.
The only thing is, they don't have some of the smaller emerging brands that are starting to really make waves in sustainable fashion. They don't have G-Gee's listed for example 😉
If you're into a bit of your own online research, here are the things I look for when searching a brand;
Where is the garment made (not just designed)
Read the "About" section – where is the company based, what is their ethos?
Is there any info about the types of fabric they use. Most quality sustainable brands have info on the fabric content of their garments. Look at Kowtow's Sustainable fabrics page

here

for example.
Clothe swaps
If you haven't had the joy of being a part of one of these with your friends, you need to organise one now! They are so much fun, a great way to hang out with your friends and connect, and get a new wardrobe too.
Don't know how they work? Check this blog out here.
Or due to this covid bizo, click here for an online version created by a Manawatu local.
Or just do it yourself with a FB event online with a bunch of friends
Care for your clothes
Kinda simple right? Goes without saying. But it's all about re-looking at that relationship we have with our clothes. We buy that item on a whim for $5, wear it once and then forget about it we're not going to look after it like a piece we spend a bit more on and have really thought through buying.
Here's three ways that I care for my clothes and make them last;
Read the care instructions
I know, I know, you don't like being told what to do, but in some instances it helps 😉. Not all garments are made of the same stuff and so should be treated uniquely (just like us right?!)
Here's some hints to get you started;
Cotton – She's a hardy girl; dry cleanable, machine washable, bleachable if white. Drip or tumble dry. Use warm/hot iron.
Polyester – little bit of care needed; dry cleanable, cold machine wash, tumble dry on low temp, cool iron, do not bleach.
Linen – cool handwash or gentle machine wash. Wash colours separately, do not wring. Tumble dry on cool setting or dry in shade to avoid fading. Use a warm/hot iron.
Wool – much care needed; dryclean only, steam when pressing, brush wool to remove surface soil
Spot clean
If you spill something on yourself, just whip it off and rub gently with laundry soap. This will save having to put the whole item through the washing machine. My fave laundry soap is SARD wonder soap, you can find it at any supermarket.
Hang your clothes after wearing
After a long day, you're tired, and it's easier just to toss your clothes on a pile to deal with another day (guilty). But if you take the 1 or 2 seconds to pop it on that hanger and put back in your wardrobe it's ready to wear another day wrinkle free. Not to mention saved from being scooped up in the washing pile when your ever-helpful partner decides to clean up 😉
Fix things
Go on, you know you were looking for something to do in front of the TV at night! Instead of chucking those clothes out or trying to palm them off on some unsuspecting friend or charity shop, why not try your hand at fixing them yourself? There's lots of great tutorials on youtube (it's honestly how I taught myself). Or why not connect with a friend or family member and get them to show you, I'm sure there's a nan or great-aunt that will love to show off their skills!
Side story – I recently had a chat with Nan who is 91. It was just a quick catch up chat however when I told her what I'd been up to (sewing, alot!) she commented that this was a family tradition. I asked her what she meant and she listed all the people in the family who had a love for sewing like I do. A simple comment for her, but the affirmation and belonging it inspired in me I know I will remember, probably forever. It's so important to connect with our loved ones, especially in these times.
All right, have I convinced you of the joys of fixing things yet? Now where to start? Ever wondered what technique to actually use??
Check out this very cool chick, who explains the different methods and when to use them, with a vintage aesthetic!
She also has some great tutorials on how to do each method.
Ok, so I haven't convinced you to do it yourself, but you still need your clothes fixed? Well, never fear, that's where I can help!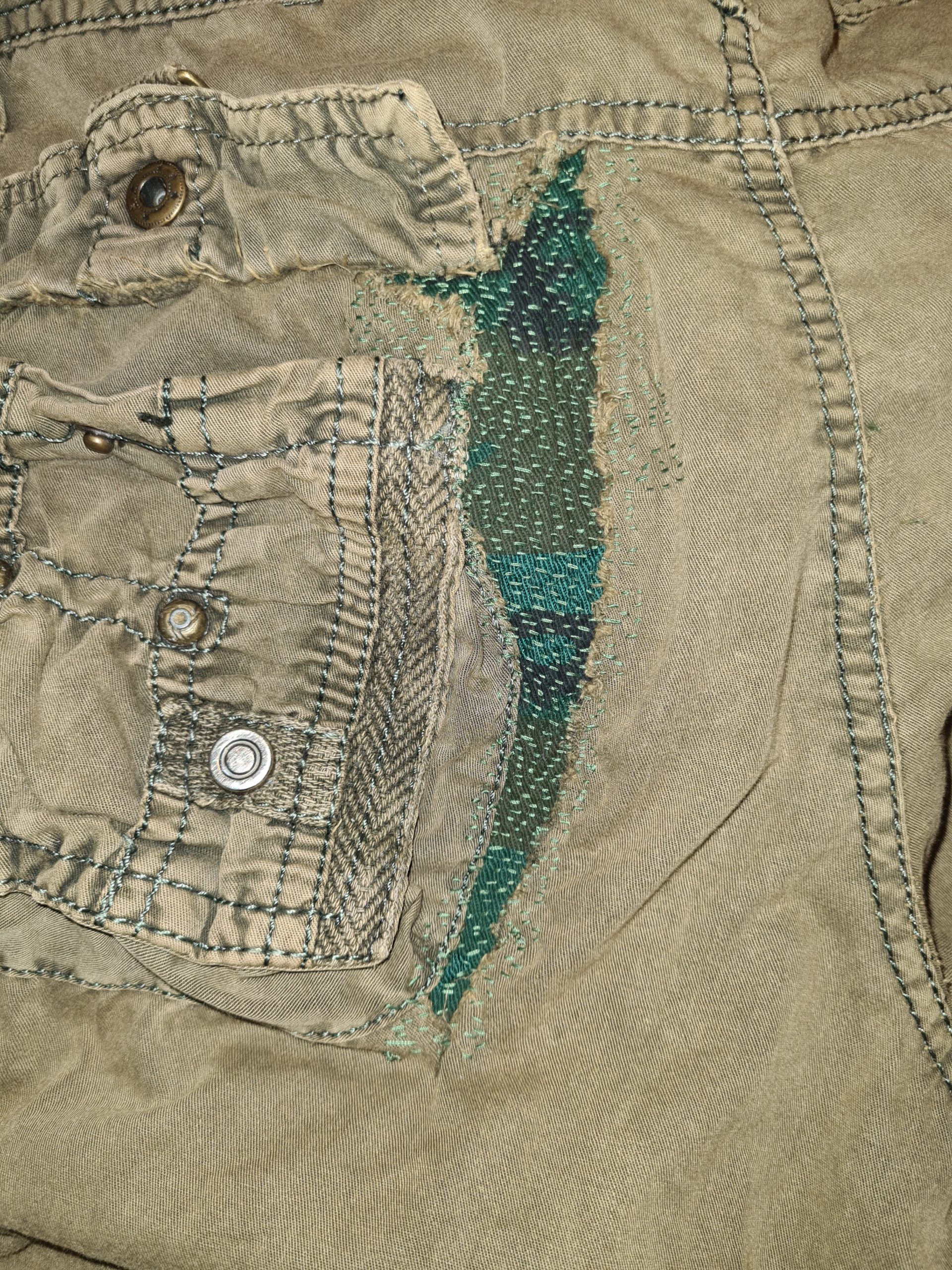 If you have any fixing or repairing, I'm happy to take that off your hands as well, you can send me a message here.
This is an example of visible mending that I have completed.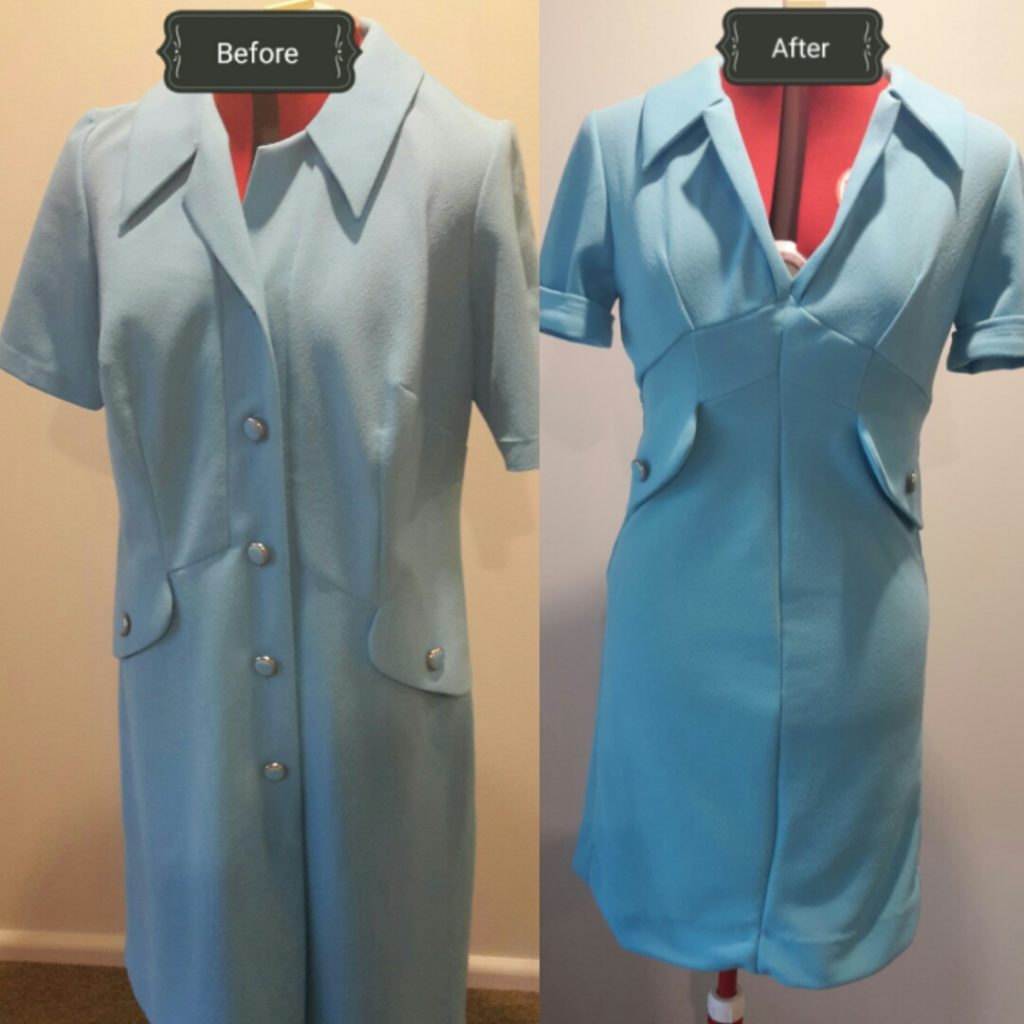 Another option I can offer is to re-imagine your garment completely, using the same fabric and have it upcycled into something new, you can check out some of the garments I have remodeled in my shop under Upcycled Sustainable Fashion.
Here's a beautiful 70's crimplene number that I have up-cycled. You can check it out here.
Op-Shop
I'm sure I don't need to convince you about this one
Some great online options for op-shopping are Trade Me (in NZ), FB marketplace and my new fave Depop.
Check out G-Gee's selection on Depop here.
So, those are my seven :) Do you have any hot tips? Let me know below!
And if you love this blog and want to hear more, sign up to my email list below and share in my journey towards making sustainable fashion the fashion of choice
xxx