About Me
Hi! I'm Gina, the owner of G-Gee's. My partner, Anja and I are based in Hamilton, NZ with our sausage dog, Fritz and our rat, Dexter. You will see that Fritz is the inspiration behind quite a few of my designs and is my little sidekick; never straying too far from my side. She has a little bed beside my sewing machine and admin desk and often curls up there while I'm hard at work. My partner Anja is herself super creative; a Project Manager by day and a photographer and graphic designer by night – check out her business AH Studios. She is behind most of the design and photography you see at G-Gee's (arn't I lucky?!)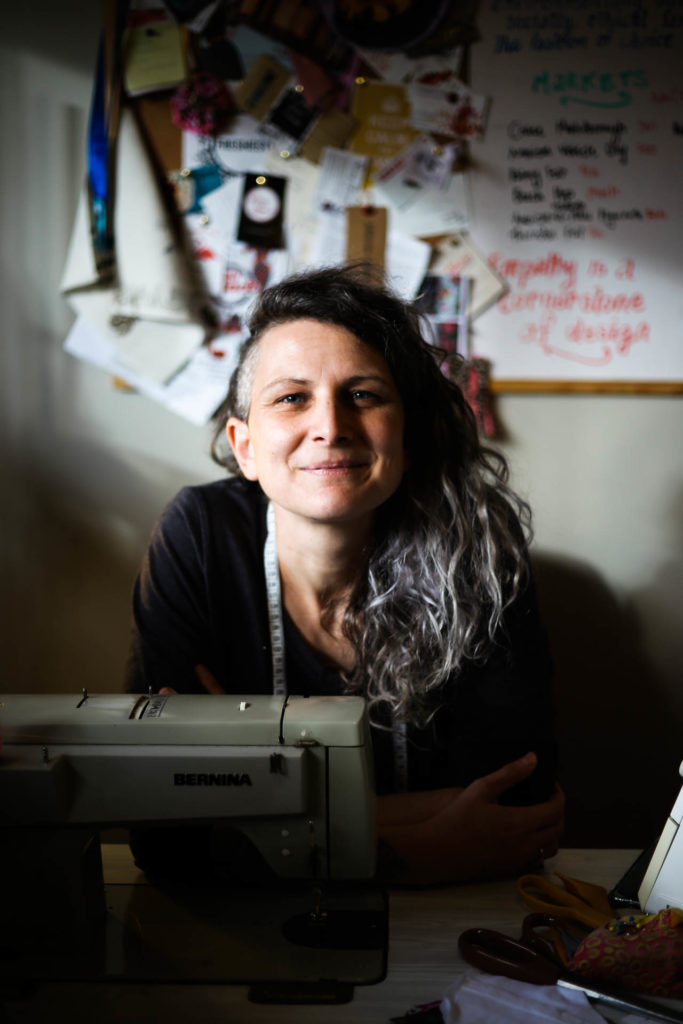 My love of sewing was passed down through the generations with my mum making my first ball dress and my Nana giving me my first sewing machine. Check out the year that my Nana brought the machine, found in the instruction manual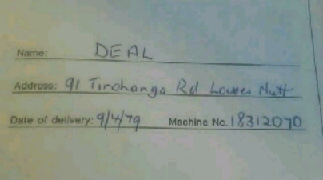 I started sewing myself around 8 years ago with making hoodies for myself and my friends and I was hooked. Sewing was a hobby, a place where I could relax and feel safe. It wasn't until a big life change in 2018 where I decided that life was too short and I wanted to focus on the things that brought me joy, so I decided to explore it as a career.
Due to my previous studies in international development and work in the community sector, I had a strong interest in the social and ethical side of fashion and was determined to make a more sustainable alternative.
My dream of making environmentally and socially sustainable fashion the fashion of choice was born, launching my business "G-Gee's sustainable fashion".
G-Gee's Mission
Making sustainable fashion "loud, proud and pocketed"
By providing quality products and endeavouring to use materials that are locally and ethically sourced, we will provide environmentally and socially sustainable fashion that is bright, bold and expressive.
In alignment with like-minded organisations, we will raise awareness to sustainable fashion, through information sharing and education. There will be education on sustainable fashion wherever G-Gee's is sold.
Charity
A portion of ​all profits are also donated to charities, both local and abroad in line with G-Gee's philosophy to further support sustainable fashion.
In 2020, a donation was made towards the 'SHE' (Suffrage Hutt Education) trust. This trust empowers women into education by giving grants for tertiary study in the Hutt area.
I did this in honor of my Aunty Fay, who passed away that year. In her lifetime, she completed a bachelor, doctorate and masters and was the first women Dairy Company chairperson in 1984 so women empowerment and education were dear to her heart.
Here is a list of the past and current organisations G-Gee's has supported.
2017 – FreeSet (now Joyya)
2020 – SHE (Suffrage Hutt Education) Trust
2021 – Rainbow confidence boosting workshop
2022 – Rainbow Youth NZ
Core Values
At G-gee's I hold responsiveness as the core value with other values emanating from this.
Responsiveness means;
Responding to customers' unique sense of style and taste by listening to their needs and providing a diverse range of styles and sizes, including a custom fit option.
Responding to customers in a timely and friendly manner
Responding to the environment that it is in, namely within the current climate of 'fast fashion' – where current trends are changing almost weekly putting pressure on for mass production, promoting pollution and unethical labour. The response G-Gee's has is to challenge this by promoting alternatives that are socially and environmentally sustainable.
Responding collaboratively to other like-minded organisations and businesses that are doing the same by supporting them both financially and promotionally.
In short, G-gee's values are responsiveness leading to;
Quality and diversity
Customer Satisfaction
Social and environmental responsibility
Collaboration
Do you have any questions or simply want to say hello?