Welcome to G-Gee's Fashion!
Based in Hamilton, NZ my vision is to make environmentally sustainable and socially ethical fashion the fashion of choice.
By providing quality and unique products and endeavouring to use materials that are locally and ethically sourced, we will provide environmentally and socially sustainable fashion.
In alignment with like-minded organisations we will raise awareness to sustainable fashion, through information sharing and education. G-Gee's also commits to donating 10% of the yearly income to chosen charitable organisations with the same vision, both local and abroad.
In 2020, a donation was made towards the 'SHE' (Suffrage Hutt Education) trust. This trust empowers women into education by giving grants for tertiary study in the Hutt area.
I did this in honor of my Aunty Fay, who passed away this year. In her lifetime, she completed a bachelor, doctorate and masters and was the first women Dairy Company chairperson in 1984 so womens empowerment and education was dear to her heart.
---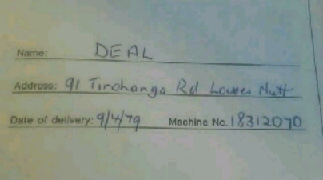 My love of sewing was passed down through the generations with my mum making my first ball dress and my Nana giving me my first sewing machine. Check out the year that my Nana brought the machine, found in the instruction manual!

At G-gee's I hold responsiveness as the core value with other values emanating from this.
Responsiveness means;
Responding to customers in a timely and friendly matter and ensuring that the customer has the best experience by listening and responding to their needs.
Responding to the environment that it is in, namely within the current climate of 'fast fashion' – where current trends are changing almost weekly putting pressure on for mass production, promoting pollution and unethical labour. The response G-Gee's has is to challenge this by promoting alternatives that are socially and environmentally sustainable.
Responding collaboratively to other like-minded organisations and businesses that are doing the same by supporting them both financially and promotionally.
In short, Ggee's values are responsiveness leading to;
Customer Satisfaction
Quality
Social and environmental responsibility
Collaboration
Lastly, I can't finish without telling you about my other obsession. Sausage dogs! (Any one who knows me, knows this) Here is my little girl, Fritz.
Love and peace, Gina.
Do you have any questions or simply want to say hello?
Join our monthly newsletter
Receive exclusive offers and discounts by joining our email list.